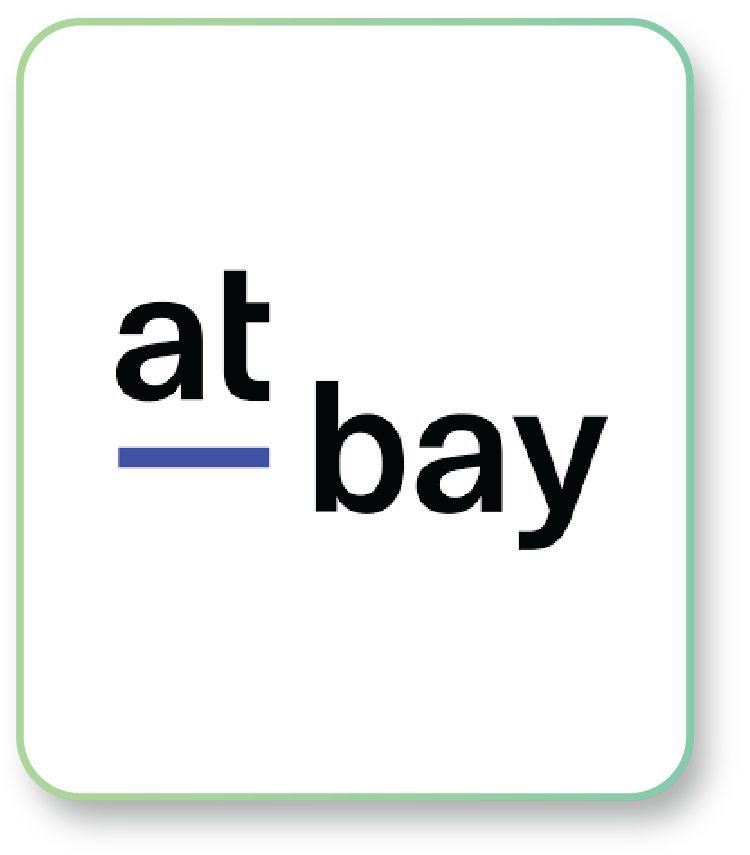 Cyber Insurance Designed to Help Prevent Loss
At-Bay helps protect against cyber-attacks and minimize disruption. Cyber-attacks are a serious threat to everyone conducting business online, with the average ransomware attack cost for small & medium-sized businesses being more than $350k. Cyber insurance can protect you from significant financial loss and help you quickly recover from an incident. Plus, every At-Bay cyber policy comes with free security services to help your business stay secure, including:
Detailed Security Report: At-Bay measures the strength of your security before you purchase a cyber policy.
Active Risk Monitoring: At-Bay watches over your business, so you don't have to worry about cyber threats.
Dedicated Recovery Team: At-Bay provides a clear action plan if you experience an attack.
At-Bay underwrites insurance policies as a managing general agent (MGA) through HSB Specialty Insurance Company, part of Munich RE, and Trisura Specialty Insurance Company. This information is provided as a guideline only and is subject to change with or without notice.
Limits available: $250k / $500k / $750k / $1M / $2M / $3M
Gross Receipts/Revenue up to $100M
At-Bay Offers Thousands of Class Codes, Active Monitoring, and Ransomware Coverage
15% Commission to the Agent
Multiple Deductible Options
Unavailable In: AK, CT, FL, HI, IA, KS, KY, LA, ME, MD, MI, MO, MT, NH, NY, NC, PA, RI, VT, and WV
Cross-selling increases client retention
Increased Customer Retention: Strengthen client loyalty with complementary coverage.
Higher Customer Value: Clients purchasing multiple policies increase their long-term value.
Better Risk Management: Identify coverage gaps and provide suitable policies for effective risk protection.
Increased Revenue: Generate more sales and income from existing clients.
Improved Customer Experience: Simplify the insurance process by consolidating policies in one marketplace.
Enhanced Upselling Opportunities: Increase revenue by offering higher-value coverage options to clients.
Strengthened Referral Network: Expand your customer base through referrals from satisfied clients.