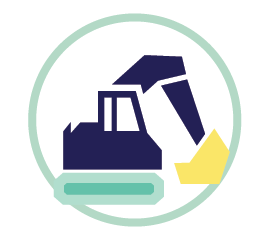 Tool Coverage Tailored For Your

Contractors
Ensuring that your contractor clients always have what they need to get the job done
A contractor without the proper equipment, products and materials is unable to move forward with a project and can face significant delays. With so much depending on having the right equipment for a job, how can your contractor clients protect against losses to owned, leased or borrowed equipment, as well as tools and materials?
Inland marine insurance provides loss coverage for equipment and supplies for risks such as theft, weather-related damages, and accidents caused by operator error. Coverage is provided for equipment that is being used or stored on the jobsite, as well as in transit.
Tailored Insurance Solutions for

Contractors
Protection for the unique risks contractors and construction businesses face
Homebuilders. Developers. Artisan Contractors. Masons. Every day, construction operations of all types face unexpected risks unique to their business. How can your clients protect against these risks that are normal to day to day business processes?
Even the most careful businesses can face unexpected incidents. A commercial general liability insurance policy protects against claims – on and off the jobsite – that could put a business at financial risk.
Our markets offer inland marine insurance programs that cover:
Large equipment such as loaders, excavators, and concrete pumps – including leased/rented equipment.
Contractors with real property who require coverage to support their construction operations such as office contents, electronic data processing equipment, tools and stock – including the contents of some manufacturing and processing buildings.
Artisan and small service contractors who are doing commercial and/or residential work.
Cross-selling increases client retention
Increased Customer Retention: Strengthen client loyalty with complementary coverage.
Higher Customer Value: Clients purchasing multiple policies increase their long-term value.
Better Risk Management: Identify coverage gaps and provide suitable policies for effective risk protection.
Increased Revenue: Generate more sales and income from existing clients.
Improved Customer Experience: Simplify the insurance process by consolidating policies in one marketplace.
Enhanced Upselling Opportunities: Increase revenue by offering higher-value coverage options to clients.
Strengthened Referral Network: Expand your customer base through referrals from satisfied clients.