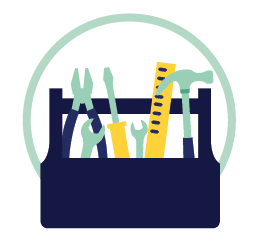 General Liability Insurance
Best Choice Contractor

General Liability
When it comes to providing you choices, we never stop working. Now we're proud to offer you the best choice in contractor general liability. Introducing Best Choice, our new flagship program backed by CNA, one of the largest U.S. Commercial Property and Casualty insurance companies, providing over 120 years of experience.
With this program you have a powerful new tool for growing your business. Available in the new Contractor General Liability Marketplace, Best Choice has been built to provide you with the advantages you need to secure your contracting risks.
*Not available in AR or WA. Please remember that only the relevant insurance policy can provide the actual terms, coverages, amounts, conditions and exclusions for an insured. All products and services may not be available in all states and may be subject to change without notice. "CNA" is a registered trademark of CNA Financial Corporation. Certain CNA Financial Corporation subsidiaries use the "CNA" trademark in connection with insurance underwriting and claims activities.
Top-Rated Admitted Carrier: A (Excellent) by A.M. Best Co.
New Higher Limits Available: $2M/$4M/$4M
Increased Medical Payments
Increased Damage to Rented Premises
Free Risk Control Services
Faulty Workmanship Coverage Endorsement*
Blanket Additional Insured Endorsement Included (WOS & Primary/Non-Contributory)
Scheduled Completed Operations AI (usually at no cost)
Available in all States Except: AK, HI, KY, MD, NY, VT
Cross-selling increases client retention
Increased Customer Retention: Strengthen client loyalty with complementary coverage.
Higher Customer Value: Clients purchasing multiple policies increase their long-term value.
Better Risk Management: Identify coverage gaps and provide suitable policies for effective risk protection.
Increased Revenue: Generate more sales and income from existing clients.
Improved Customer Experience: Simplify the insurance process by consolidating policies in one marketplace.
Enhanced Upselling Opportunities: Increase revenue by offering higher-value coverage options to clients.
Strengthened Referral Network: Expand your customer base through referrals from satisfied clients.