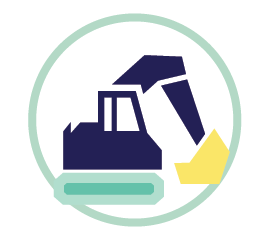 The BTIS Inland Marine Program offers great rates, high limits, and variable deductibles. This program targets those contractors with real property that supports their construction operations. This program also provides coverage for contractor equipment, office contents, installation property, and/or electronic data processing equipment exposures. Take a look at the information listed below for further details about this program.
This information is provided as a guideline only and is subject to change with or without notice.
Top-Rated Carrier: A- by A.M. Best Co.
Coverage for: Buildings, Stock, Business Property, Tools, Equipment (Large & Small), Installation Floaters, Leased or Rented Equipment, EDP, and More!
Cross-selling increases client retention
Increased Customer Retention: Strengthen client loyalty with complementary coverage.
Higher Customer Value: Clients purchasing multiple policies increase their long-term value.
Better Risk Management: Identify coverage gaps and provide suitable policies for effective risk protection.
Increased Revenue: Generate more sales and income from existing clients.
Improved Customer Experience: Simplify the insurance process by consolidating policies in one marketplace.
Enhanced Upselling Opportunities: Increase revenue by offering higher-value coverage options to clients.
Strengthened Referral Network: Expand your customer base through referrals from satisfied clients.